Photo Fringe OPEN20 Moving Image Selectors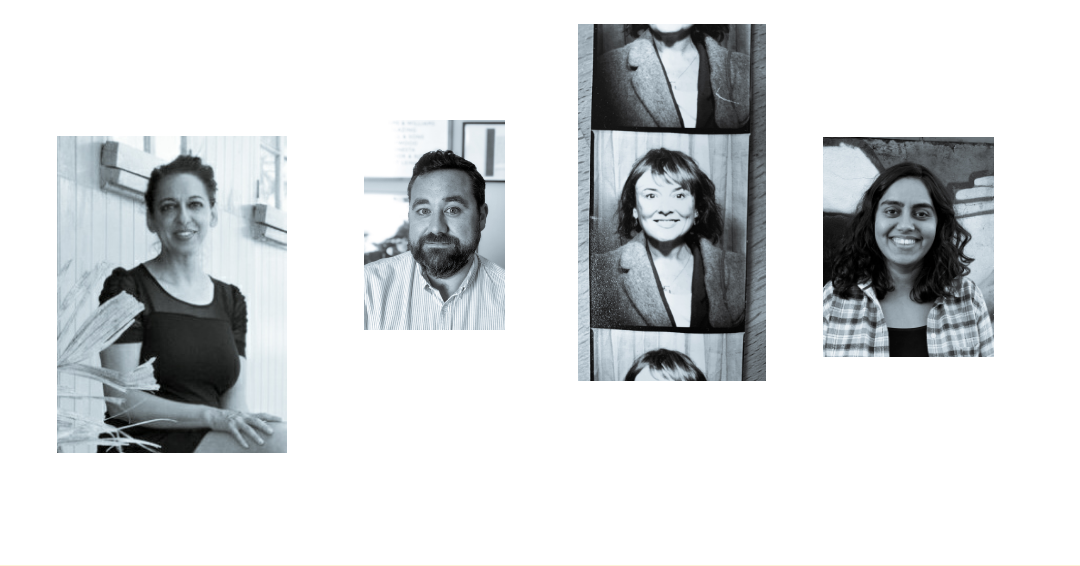 Meet the selectors for this year's Photo Fringe OPEN20 Moving Image showcase - our digital exhibition opportunity for emerging artists working with moving image.
Above Left to Right: Mohini Chandra, Joe Hill, Clare Strand and Mita Suri
Mohini Chandra is an artist whose work on globalisation, memory and migration, sees her moving between photography, moving image and installation. Having previously worked across the Asia-Pacific region in search of diasporic narratives, her current project Paradise Lost examines the complexities of colonial seafaring through the shipwrecks of Devon and Cornwall. Mohini Chandra currently lectures on BA and MA Photography at Plymouth College of Art.
Since graduating from the Royal College of Art, Chandra has exhibited widely, including in: Paradise Now? Contemporary Art from the Pacific, Asia Society Museum, New York; Out of India, Queens Museum of Art, New York; 000ZeroZeroZero, Whitechapel Art Gallery, London; Artist and the Archive, Shoreditch Biennale; the First Johannesburg Biennale and the Photography Triennial - Dislocations, Rovaniemi Museum in Finland. She has had solo shows at venues such as the Southeast Museum of Photography, Florida and the Bluecoat Gallery, Liverpool. Most recently, she has shown in Photo Kathmandu (2015), CCP Declares at the Centre for Contemporary Photography, Melbourne (2016), Now! Now! In more than one place, Chelsea College of Arts-University of the Arts London (2016),the Focus Festival of Photography in Mumbai, (2017), the Third Oceanic Performance Biennale in Auckland (2017), the Houston FotoFest Biennial (2018), Unquiet Moments, Courtauld Institute, (2020) and Bittersweet, Casula Powerhouse Museum, Sydney, (2020).
Joe Hill has been Director of Towner, Eastbourne since 2018. He was previously Director of Focal Point Gallery in Southend-on-Sea. Originally trained as an artist, Joe has over twelve years' experience working as a director, curator and project coordinator for visual arts organisations, public commissioning and directly with artists. This experience has been cultivated through working with high-profile arts institutions including Camden Arts Centre, Firstsite, Modus Operandi public art consultancy and internationally as part of the Venice Biennale.
Clare Strand is a British conceptual artist, working with and against the photographic medium. Over the past two decades she has worked with found imagery, kinetic machinery, web programmes, fairground attractions and most recently, large scale paintings. She rejects the subject-based qualities and the immediate demand of information, so often associated with the photographic image and instead, and without apology, adopts and welcomes a subtle, slow burn approach.
Strand's work has been widely exhibited in venues such as The Museum Folkwang; The Center Pompidou; Tate Britain; Salzburg Museum of Modern Art and the Victoria and Albert Museum. Her work is held in the collections of MOMA; SFMoma; The V&A; The Center Pompidou; The British Council; McEvoy Collection; The Arts Council; The NY Public Library; The Uni Credit Bank; The Mead Museum and Cornell University. She has produced 3 publications, Clare Strand Monograph published by Stedil (2009), Skirtspublished by GOST (2014) and Girl Plays with Snakepublished by MACK (2017). She is represented by Parrotta Contemporary, Cologne/Bonn. She is currently one of the four artists nominated for the Deutsche Borse 2020.
Mita Suri has a background in community cinema exhibition, and began working at Sheffield Doc/Fest as a volunteer, supported the Doc/Circuit tour as a Distribution Trainee, moving on to be the Film Programme Coordinator and now the Film Programme Producer, supervising the delivery of the Film Programme for the festival. She is primarily responsible for the external contacts including filmmakers, national film institutes and distributors, managing the submissions process, running the Youth Jury Programme and coordinating Doc/Fest's year-round activity outside of the festival. Mita's previous work experience has been in health services' management, youth leadership initiatives and as support teaching staff in schools within the UK and abroad.
Find out more about our Photo Fringe OPEN20 Moving Image showcase and how to submit work here