In Between Gallery Shortlist: William Arnold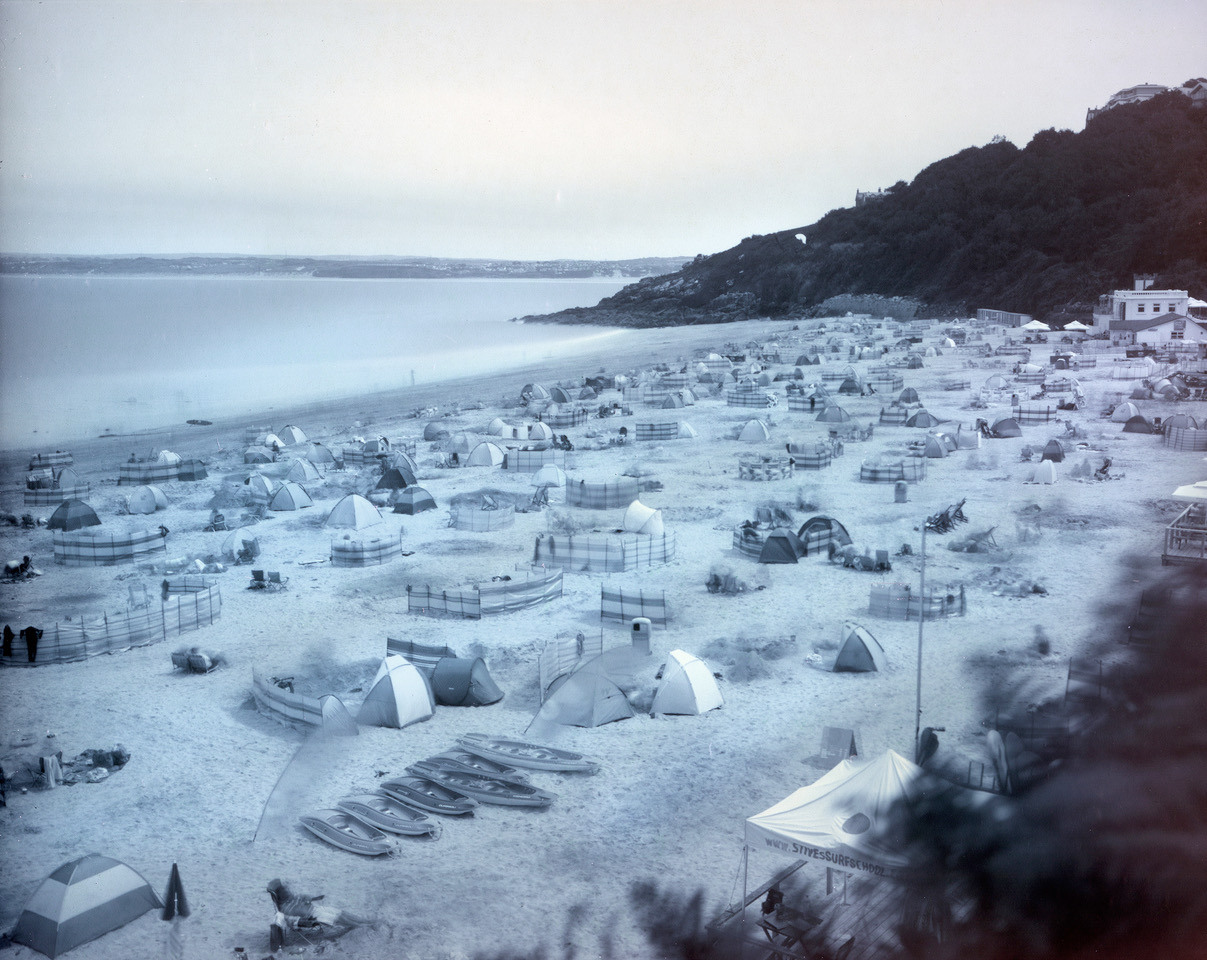 Recently shortlisted for The In Between Gallery is Porthminster, St Ives, Cornwall from William Arnold's series Tides.

William has photographed popular Cornish beaches in high summer with a continuous 90 minutes exposure. The resulting images explore the commodification of housing, Cornwall and "generation rent".
William writes:
During the months of July and August the population of Britain's most westerly mainland county doubles, a frenzy of holiday let bookings, campsite bookings, good seafood, bad seafood, surf themed jollity, Cornish piskies, pirates and miners – Poldark. Public services and infrastructure strained in the quiet times buckle and year-round dwellers grumble at traffic jams and emmets' attitudes to social distancing ... then the tide recedes.
The supposed trade-off is an economic lifeline. Traditional industry all but gone, servicing the dreams of the affluent summer crowds all that is left.
These photographs of popular beaches in high summer Cornwall are photographed using a continuous exposure of 90 minutes. During that time depending on the state of tide a couple of feet of land is ceded or gained. People arrive; bask, play, swim. In echoes of Louis Daguerre's shoe-shine boy those determined sunbathers are preserved as ethereal traces, yet the main evidence for the population of these packed playgrounds are the windbreaks, towels and stranded paddleboards each marking a temporary encampment on the sand.
For at least two decades a veneer of wealth in the picturesque coastal towns and fishing villages has masked severe deprivation inland but as in economically similar areas like the Welsh Valleys, formerly reliant on solid blue-collar industrial jobs, poverty was grinding but mostly people got by, housing in these places at least was relatively affordable on a low income and there were places to rent.
Now that has changed. Home-working practices gathering pace before coronavirus have become commonplace allowing those with equity from the wealthy southeast to permanently relocate, escaping the city and driving up the already high price of real estate with a knock-on effect way beyond the tourist towns as former locals are finally irreversibly priced out. Easy credit and a long-term propping up of the economy by the encouragement of buy-to-let has turned houses into investments not homes. Meanwhile, the rise of the Airbnb has seen virtually all of the spare bedrooms that once may have provided a lifeline for a lodger gone.
The young people who haven't seen the writing on the wall and left for better opportunities 'up-country' thrown out of their winter homes for the summer gig economy - collateral damage like the whitebait driven to the strandline by teaming shoals of mackerel.
In June 2021, Cornwall had more than 10,290 active Airbnb listings across the county, whilst there were only 69 rental properties available on Rightmove. As of 31 July 2021, that number has dropped to 41. £50 million of covid relief funds (27% of the Cornwall total) has been given by Cornwall Council to 5,000 holiday lets which are classified as small businesses. A a majority are registered to addresses outside the county while average house prices in the county run at nine times median wage.
The In Between Gallery is an ongoing series of photographic exhibitions which sit between Fabrica's main exhibition programme, in partnership with Photo Fringe, Spectrum and Loupe Magazine. Work by emerging photographers is shown in the Fabrica window space right in the heart of Brighton, in the large picture window on Duke Street. Showing from 20 December 2021 to April 2022 is Lost Connection I Afghanistan by Rick Findler. The Open Call judging panel was made up of the project partners, together with independent curator Cairo Clarke and previous In Between Gallery exhibitor, photographer and curator Ibrahim Azab.
About William Arnold
William Arnold (b.1983) is an experimental, conceptual and documentary photographer, interested in the layers of human and natural history that comprise the making of the landscape, and the role played by the photograph in documenting time and change—the subjective and objective politics of places and their histories.
His first monograph Suburban Herbarium was published by Uniformbooks (2020) with his work showcased in various publications and periodicals including: The Guardian, New Scientist, De Standaard, Source and Resurgence & Ecologist Magazine.
He received his MA Photography - Photography & The Land from University of Plymouth in 2014, having graduated in History from University of Lancaster 2004. He lives and works in west Cornwall, UK.