In Between Gallery: Rick Findler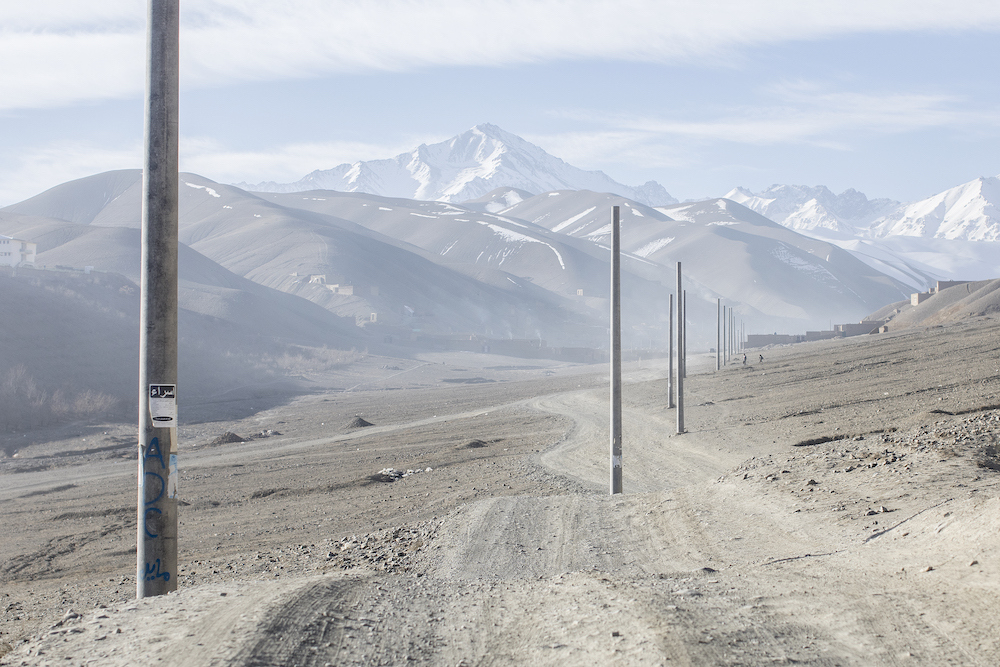 The latest work to be selected for Fabrica's In Between Gallery is by Rick Findler.

The In Between Gallery is an ongoing series of photographic exhibitions which sit between Fabrica's main exhibition programme, in partnership with Photo Fringe, Spectrum and Loupe Magazine. Work by emerging photographers is shown in the Fabrica window space right in the heart of Brighton, in the large picture window on Duke Street.
Showing from 20 December 2021 to April 2022 is Lost Connection I Afghanistan, an image taken by Rick in Afghanistan in Spring 2021.
Throughout Bamyan Province (a picturesque mountainous region of Afghanistan 80 miles west of Kabul) thousands of unconnected and unfinished electricity pylons stretch for miles, and have done so for more than two years. Just 35% of Afghanistan's population has access to electricity, with the electricity sector fraught with tales of corruption. The pylons remain standing, unused and unemployed, symbolic of the corruption afflicting the electricity sector, the feeling of an abandoned population and their disillusionment toward the governing authorities. As the west turns it's back on Afghanistan, it is the people stuck in the middle which are affected the most. They feel abandoned - abandoned by both their government as well as the global powers that once protected them. These pylons, which once held so much promise for so many people, symbolise a nation forgotten by everyone.
The image is from a series of seven and has not been displayed to the public before now, giving Brighton audiences the first chance to see this work.
The Open Call judging panel was made up of the project partners, together with independent curator Cairo Clarke and previous In Between Gallery exhibitor, photographer and curator Ibrahim Azab.
Liz Whitehead, Director, Fabrica, said, "As the host of the In Between Gallery the opportunity it affords is to put photography onto the street at Christmas. This photograph keeps Afghanistan in the public imagination"
Claire Wearn, Director, Photo Fringe, said, "Photo Fringe aims to develop new ways of seeing together. Rick's powerful photo challenges typical imagery of Afghanistan and gives a haunting insight into current conditions in need of global attention."
Luke Archer, of Loupe Magazine said, "Rick's image stands apart from the rolling news coverage of Afghanistan. Instead his carefully composed landscape encapsulates the enormity and complexity of the issues that have plagued Afghanistan's recent history. It is an image that needs to be shown at a large scale and I'm sure the public will be drawn to its aesthetic beauty but will be left with much to reflect on."
Since the unprecedented takeover by the Taliban, the country finds itself in an even more difficult predicament. Help and support is difficult, however, if you would like to support a trusted charity who is working out there, please visit The International Committee of The Red Cross.

About the artist:
Rick Findler (b.1984) is an award-winning photojournalist based in London, UK. After completing a Masters in Photojournalism at University of Westminster in 2007 Rick began his career as a freelance press photographer, mainly working in London and the surrounding areas. As his interest in global news grew Rick went on to cover the Libyan civil war in 2011, documented the rise and fall of ISIS across Syria and Iraq between 2012-2017, and has worked on stories in Somalia, Burundi, South Sudan, Lebanon, India-controlled Kashmir, Hong Kong and most recently Afghanistan in 2021.