Projecting Power - Photography as Activism - submissions closed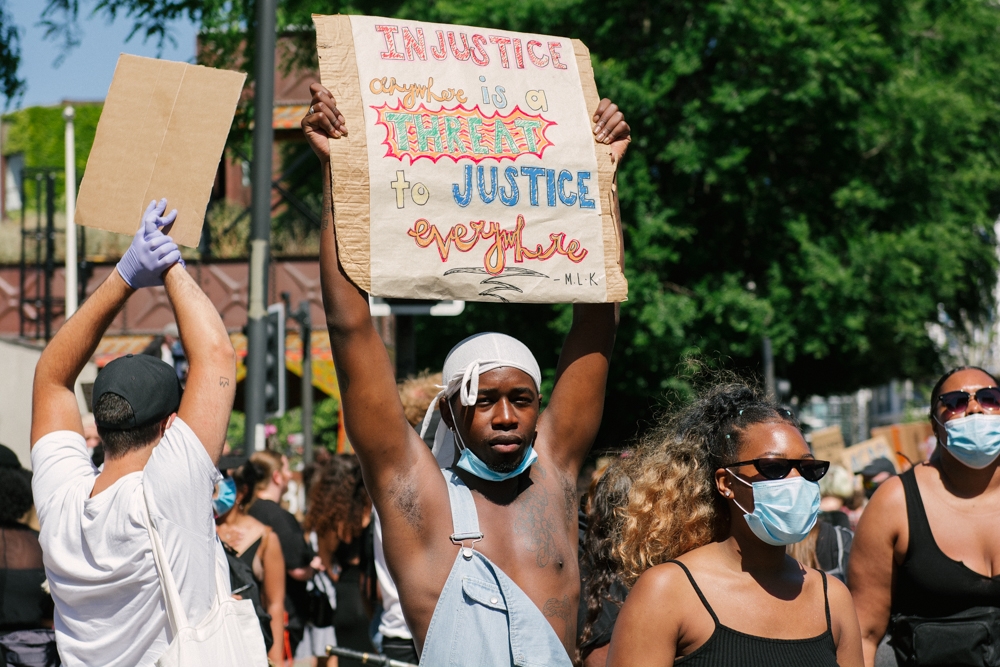 © Natalie Mitchell, BLM protest, London, May 2020
Photo Fringe 2020 TAKE MAKE
Young Photographers Programme
Projecting Power: Photography as Activism
APPLICATION DEADLINE: 6pm Thursday 24 September 2020
We are calling for applications for a free Photo Fringe photography project for young people of colour aged 16 to 21. There is no need to have formally studied photography. This opportunity is open to young people based in Brighton & Hove (50%) and by Zoom from anywhere in England.
About the project
Photography allows us to keep a moment of a history frozen in time and gives us the ability to use the photograph as a tool for our own intentions.

Projecting Power: Photography as Activism aims to use the medium of photography to analyse systems of power and the idea of activism from the personal to the political, from the documentary photography of Gordon Parks to the self portraits of Zanele Muholi. Working collaboratively, we'll examine how photographs can be used to document history, tell a story, convey a message or disrupt the narrative. And how we can harness its power to project our own voices.
Up to 15 participants will be selected to:
Work with the Photo Fringe team to create a collaborative exhibition/online display/event as part of Photo Fringe 2020.
The group will attend a number of evening workshops during October & November with key creatives working to widen representation in the fields of curation and photography.
Produce a new piece of work or expand on a project already in progress.
Project dates: 5 October to 10 November 2020
Workshops (2 per week Tuesdays & Fridays)
There are a maximum of 15 places available.
The project will run from 5 October to 10 November 2020. There will be 2 x 2 hour evening sessions per week, every Tuesday and Thursday.
Applicants must have access to photographic equipment - a digital/manual camera or a good quality smartphone.
We will abide by up to date COVID-19 guidelines. Participants from outside Brighton & Hove will take part exclusively online. Those in Brighton & Hove will also be able to take part in two real life meet-ups, where this is possible in a COVID19 Secure setting.
Applicants under 18 may also be interested in applying for our OPEN20 Young Photographers Award.
How do I enter?
Select up to 5 photographs you've taken that reflect the theme Take a photo/Make a difference. Images must be 72dpi.
Write a paragraph (no more than 200 words) telling us how you think photography can make a difference
Write a paragraph (no more than 200 words) on why you would like to join this project
Email your photographs and texts to natalie@photofringe.org with the subject heading Projecting Power including your name, address and contact telephone number, as well as your current age and your school. Please also mention where you heard about this opportunity.
What happens next?
Up to 15 participants will be selected and you will be informed by the 25 September. Please note if you have not heard from us by 5pm on 25 September regrettably you have not been selected in this instance.
Project dates: 5 October to 10 November 2020
DEADLINE: 6pm Thursday 24 September 2020
About Photo Fringe 2020
The ninth edition of this free photography festival runs 3-31 October online and in venues across Brighton & Hove and along the coast to Worthing. Photo Fringe 2020 is a call to action, inviting artists and audiences to take photos and to make a difference, to make art and communicate our place in the world through it, to use photography to make change. The Photo Fringe 2020 website has over 150 digital exhibitions, plus listings for events and in-venue shows.
Photo Fringe supports early-career photographers and lens-based artists, showcases new talent and enables all kinds of people to enjoy and experiment with photography. Every two years Photo Fringe designs and delivers one of the largest photographic festivals of its kind in the UK, encouraging artists and audiences to develop new ways of seeing together.
A registered charity, Photo Fringe is supported by the National Lottery through Arts Council England; Art Fund; Brighton & Hove City Council; Worthing Borough Council; Metro Imaging Ltd; Picter and Colourstream.
Join in! Photo Fringe is open to everybody and everyone's invited.
photofringe.org @photofringe #photofringe2020