Curators Training Programme, 2020 - applications closed
CURATORS TRAINING PROGRAMME - PHOTO FRINGE 2020
APPLY NOW – DEADLINE 9am Friday 18 SEPTEMBER
Introduction
This October, Photo Fringe presents the ninth edition of what has become one of the largest and most inclusive photography festivals in the UK.
Photo Fringe 2020 will be a call to action, inviting artists and audiences to take photos and to make a difference. To make art and communicate our place in the world through it. To use photography to make change. To develop new ways of seeing together.
At this critical moment of historical change the festival asks: "How can photography help us to see the world afresh and help us to envision a fairer, safer, greener world? How can it help us to understand global change? How can your photography make a difference?"
We invite early-career curators to apply to a unique and free professional development programme to develop their professional skills through hands on experience delivering this year's festival. In order to honour the Black Lives Matter movement and to support our commitment to anti-racism, this year we are particularly seeking to recruit emerging curators of colour.
The Photo Fringe Curators Training Programme enhances participants' career prospects, giving them the confidence to move forward in the competitive world of curating and provides them with a support network that they can build on into the future. A learning experience rarely found outside postgraduate curating courses, successful applicants will gain experience of delivering an ambitious festival of photography including exhibitions and events both online and in-venue, while having the opportunity to attend a tailored programme of online seminars by professionals who operate at the forefront of photography curatorial practice.
Programme
Up to three curators will be selected to:
Work with the Photo Fringe 2020 team to deliver the festival
Attend a series of seminars by professional photography curators
Work as a team to curate an online event or exhibition as part of the festival programme
Support the installation at the Photo Fringe Outdoor Hubs
Take part in selecting one festival exhibitor to win 'Emerging Curators' Favourite' for the Danny Wilson Memorial Award
Devise a guided tour of Photo Fringe 2020 online exhibitions
Write a text or interview on one of the Photo Fringe SOLO exhibiting artists to be published on the Photo Fringe website
Undertake audience evaluation surveys and analysis
Help invigilate the Collectives' Hub
Help to document the festival
A number of seminars will be held during November with leading photography experts. Trainees will be expected to be available for at least one day per week plus at least 3 days over the festival setting up period with an overall minimum commitment of 20 days, starting on 22 September.
A bursary of £500 each to cover travel and sundry expenses taking part is available to applicants, with funding gratefully received from Art Fund.
Eligibility
This year we will prioritise applications from people of colour as part of our commitment to anti-racism.
You are:
– an emerging and early-career curator of any age from the South East of England
– available for interview on Monday morning, 21 September
– available for at least one day per week from 21 September 2020 to 30 November 2020
– available between 28 September to 4 October 2020 for the Photo Fringe 2020 install period
– available to work independently outside of this schedule
– based in Brighton & Hove, Worthing or the South East area.

How to apply

Deadline: 9am Friday 18 September
Send your application to: natalie@photofringe.org
Interviews: Monday 21 September 2020
To apply please email:
1. A covering letter (max 500 words) stating:
why you need this opportunity
what relevant skills and experience you have
how this opportunity will benefit your professional development.
You must demonstrate:
a need for this opportunity to further your career
an ability to work as part of a team
excellent communication skills
an enthusiasm for both the conceptual and practical elements of the festival
and a willingness to learn.
Please also confirm your availability to participate fully in this opportunity
2. Please write 500 words max on an idea for an event on the festival's theme of TAKE/MAKE:How does photography make a difference?
3. Your CV, no longer than one side of A4.
Previous BPF trainee curators said…

Ruby Rees-Sheridan:
"The BPF16 Trainee Curators programme is an invaluable opportunityto gain practical skills alongside thoughtful mentorship. A fantastic springboard into a career in the arts"
Sarah French:

"The BPF Trainee Curators programme surpassed my expectations at providing a practical and collaborative experience of curating photography. Working together, with lots of support from the BPF team and other industry professionals, made it possible to curate a successful exhibition and events within a short time-frame; the programme has given me the confidence to curate exhibitions independently in the future."
Edwin Coomasaru:
"I found the Brighton Photo Fringe's curatorial training programme an invaluable experience. This unique opportunity of hands-on training for one of the UK's most successful photography festivals is a must for anyone considering a career in curating."
Lulu Evans:
"I found the whole experience very useful and learnt much more than I expected to... I feel it was an excellent opportunity overall and I am very grateful to have been selected, I gained an invaluable amount from it and met some incredible people through the process."
Sunil Shah:
"We were given excellent mentoring and workshops and this helped us turnaround the workload fairly easily and within the timescale... Support and advice for us was always at hand from the project and technical teams. In this sense it was unique compared with other curatorial projects - I've never had so much support!"
Supported by the National Lottery through Arts Council England, Brighton & Hove City Council and Art Fund.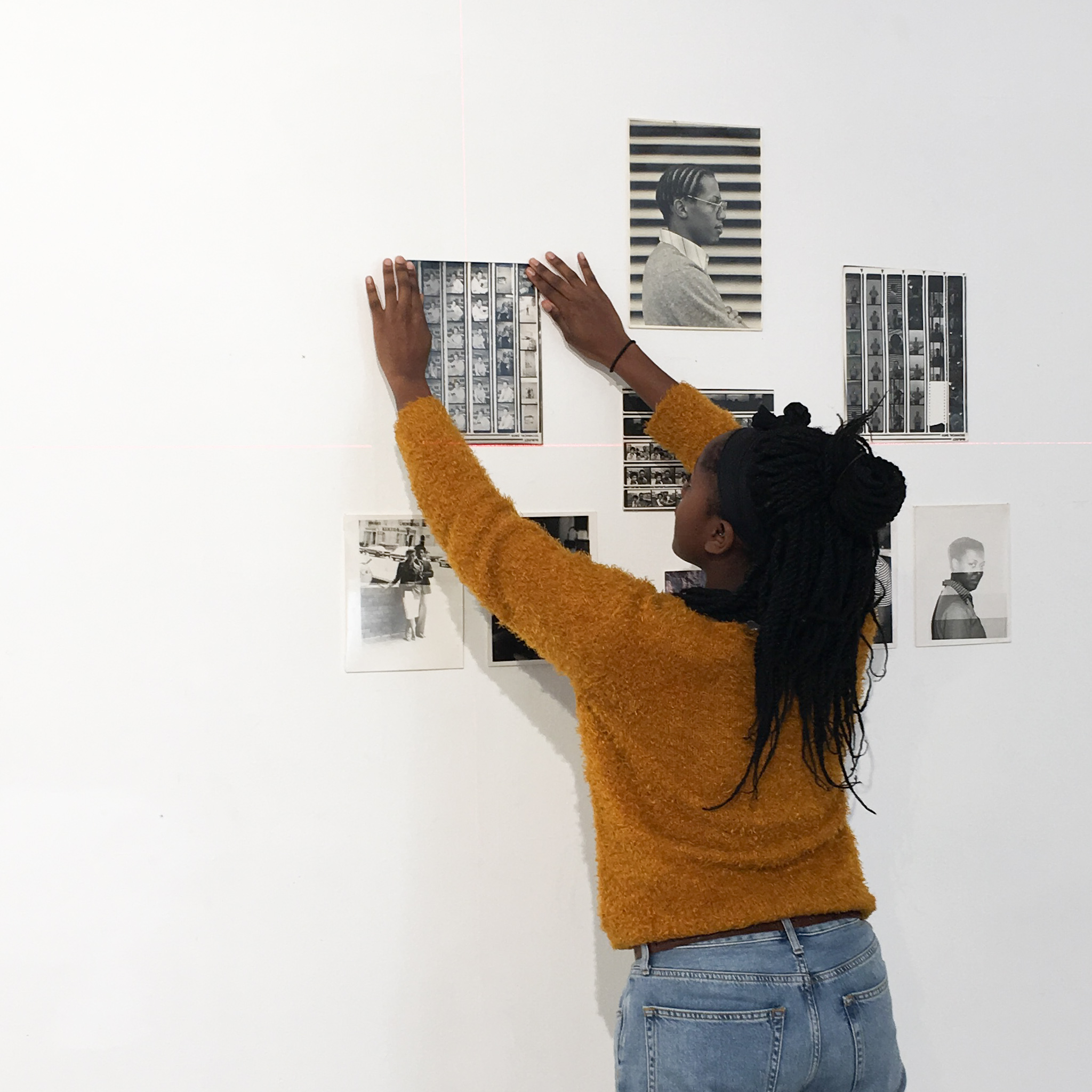 Reflections Of Us installation, Photo Fringe 2018, image © Jamila Prowse