In Between Gallery: Fion Hung Ching-Yan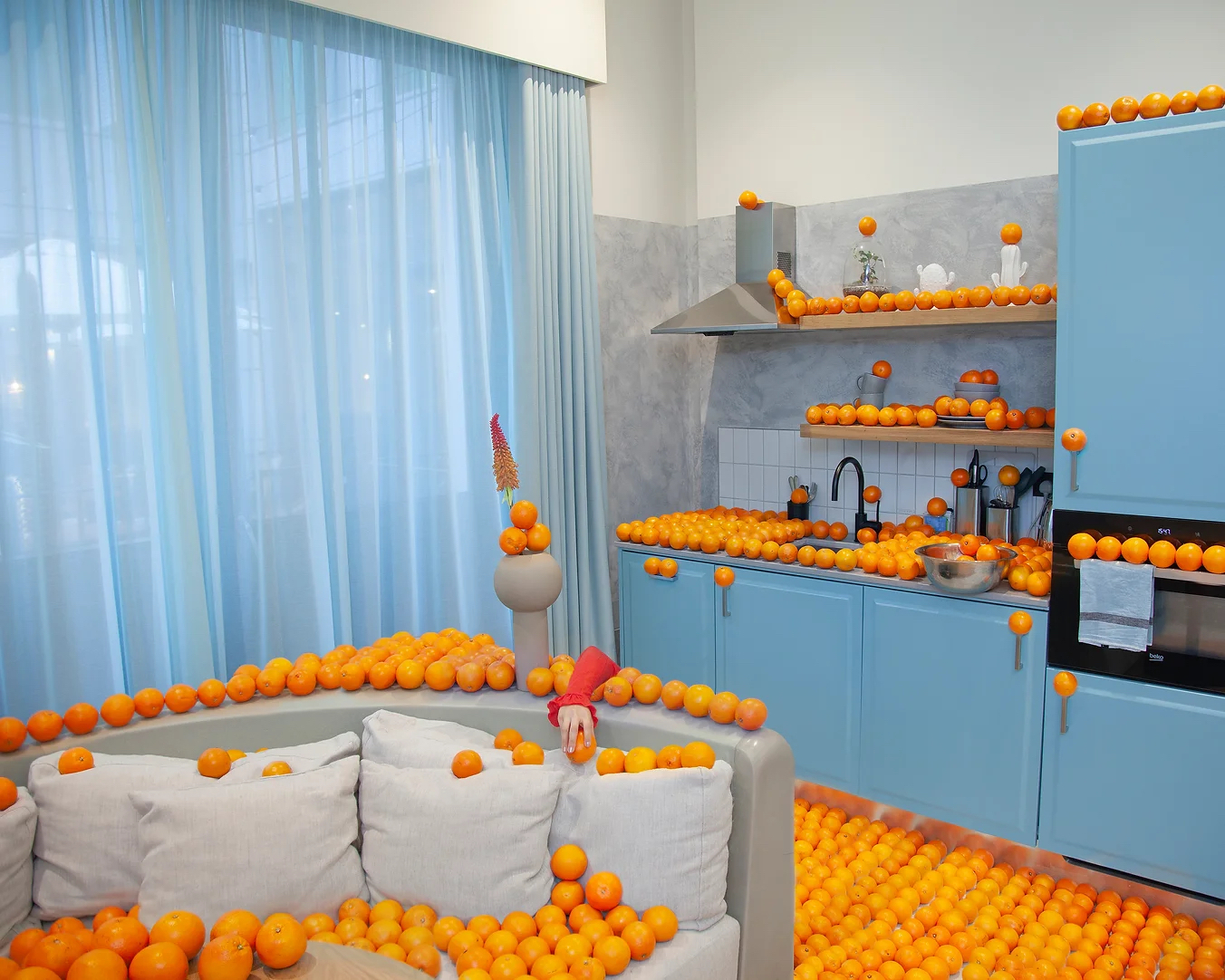 The In Between Gallery is an exhibition space for contemporary photography in Fabrica's large picture window on Duke Street in the heart of Brighton.

In partnership with Photo Fringe, Spectrum and Jane & Jeremy, work from two artists is shown each year, including work selected from Open Call.
Showing this summer is Fion Hung Ching-Yan's Stealing Oranges to Take Home for His Mother and Tears That Brought Bamboo Shoots from the Frozen Earth.
The two images are from the series The Skeletons in The Closet. This photo collage project created by Fion in 2021 and 2022, challenges Chinese stereotypes and moralisations by using 24 Paragons of Filial Piety* as a visual metaphor to talk about family expectations, self-identity and the pain that her and her family have inflicted on each other. In this series of works, Fion uses a surrealist approach to subvert her family's authority within their traditional values and in doing so, creates a reality that can never be seen in real life.
ABOVE © Fion Hung Ching-Yan, Stealing Oranges to Take Home for His Mother, from the series The Skeletons in The Closet, 2021-2022
BELOW: © Fion Hung Ching-Yan, Tears That Brought Bamboo Shoots From the Frozen Earth, from the series The Skeletons in The Closet, 2021-2022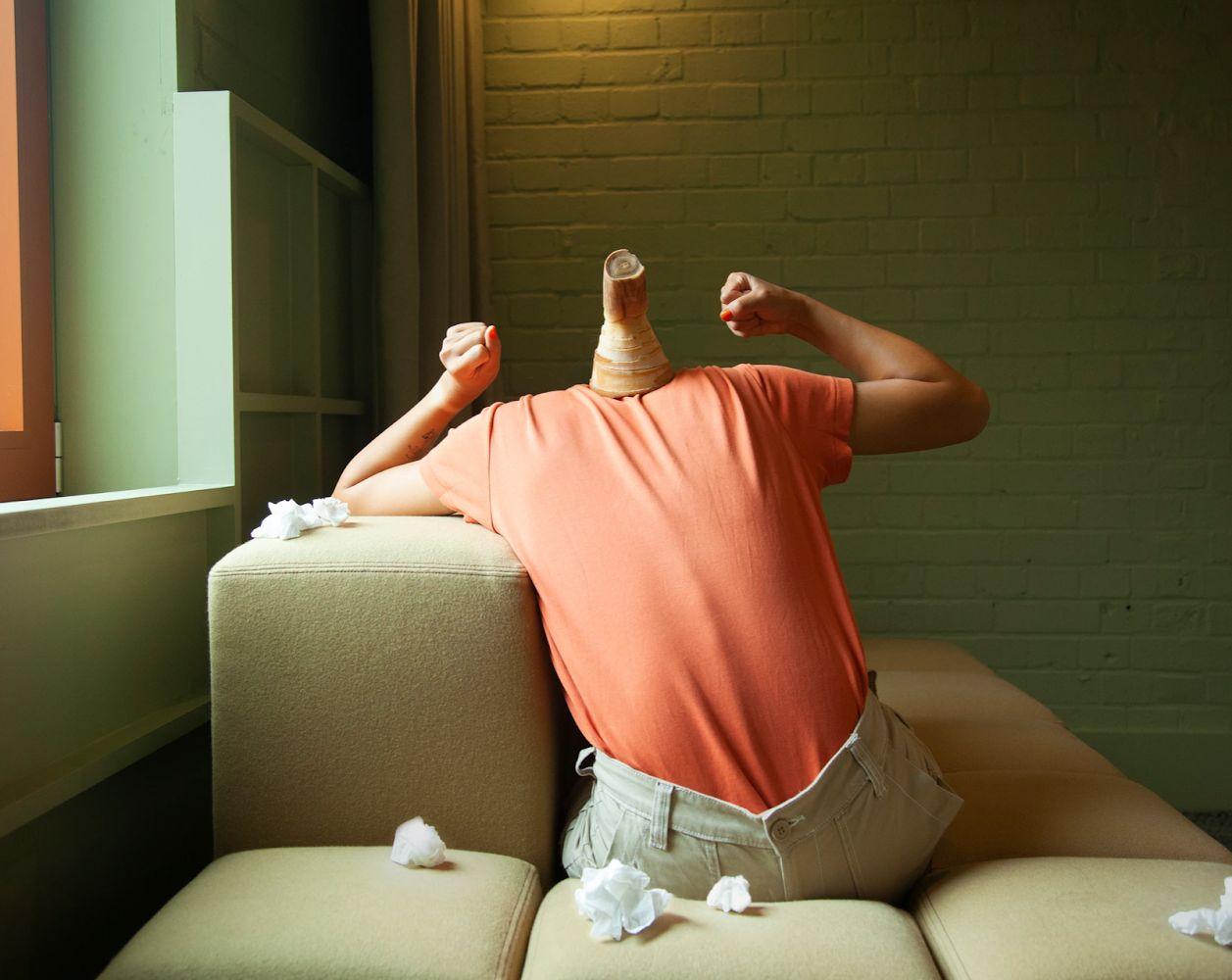 Artist Talk: Fion Hung Ching-Yan

6-8pm Monday 10 July
£5/£4

Fabrica, 40 Duke St, Brighton BN1 1AG


In conversation with Vivienne Gamble founder and Director of Seen Fifteen and Peckham24, Fion will talk about her working process & subject matter.
Doors and pay bar open at 6pm. Talk begins at 6.30pm. The talk is scheduled for forty minutes, followed by questions from the audience.
About The Artist
Fion Hung Ching-Yan is a Hong Kong artist, who was born into a traditional Fujian family. She lived with her grandparents for many years when she was small and since then has realised that there's a big generation gap between her and the rest of her family. Fion has been exploring family relationships and resolving her conflicts with Chinese cultures for the past few years.
Fion graduated with a degree in Visual Arts from the Academy of Visual Arts, Hong Kong Baptist University in 2016 and her work To Be Used Someday received a WMA Young Talents that year. She has been an active participant in the Hong Kong art scene since 2016.
Her project I Wanted To Be A Mother was selected for the Photographer Incubator Project of the Hong Kong International Photo Festival in 2020, and was subsequently exhibited in PHVLO HATCH art space in SSP district, Hong Kong. She has also exhibited as part of: the Chiang Mai Photo Festival 2017, FORMAT Photo Festival 2020 and Copenhagen Photo Festival 2020.
In 2022 Fion completed a MA in Photography from London College of Communication, UAL.
The Skeletons in the Closet (2021 - 2022) was a finalist for the Hahnemühle Student Award, and is exhibited in Photo London in 2023 and as a solo show at South London Gallery as part of Peckham24's 2023 programme.