Interview with OPEN16 Moving Image artists Amak Mahmoodian & Maria Kapajeva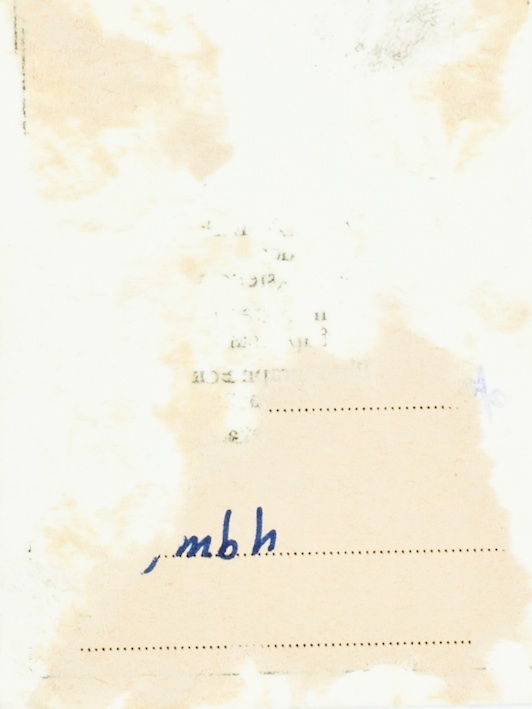 Amak Mahmoodian, from Shenasnameh, 2016
BPF16 Trainee Curator Ruby Rees-Sheridan interviews two artists featured as part of the Brighton Photo Fringe Moving Image Showreel at Phoenix Brighton 1-30 October 2016.

Amak Mahmoodian is an Iranian artist living in Bristol. Maria Kapajeva is a London-based artist originally from Estonia. Here they discuss their projects, what draws them to lens-based practices and issues faced by women in the arts. 
RRS:  Could you say a bit about the projects that you will be exhibiting in the BPF16 Moving Image exhibition? 
Amak: The title of the project is Shenasnameh.  Shenasnameh is the original name of the birth certificates in Iran. It is a passport-shaped booklet and contains information about a person, it's valid for life. Women in Iran need to update the photograph at a certain point in their lives because they have to change the way they present themselves: as from the age of seven they must be covered. So this project started six years ago when I was in Iran. I was waiting in a reception room and it was a really difficult time for me. My father had just passed away and I couldn't say goodbye to him. So I had many questions in my mind, and I was sitting in this reception room next to my mother to complete some paperwork that linked to my dad's death. I had my shenasnameh and my mother's in my hand, it was like seeing them for the first time and seeing myself in thirty years, for all of the differences me and my mother looked similar in the photographs. The same day we were asked for our fingerprints. After printing my fingerprint next to my mother's fingerprint I saw that they were so different. Even the scar I had on my finger was printed, like a blank white part on the paper, as part of my identity. The scar could be a scar in your heart, in your mind, it depends on your situation…This made me think, which one is me? This fingerprint or this picture? Which one is the real face of me? I went home and was really curious to compare my Shenasnameh Photograph with other women's. I called my neighbours and said, can I come and see your birth certificate? And I checked the photographs and we were absolutely the same, the same plain faces with the headscarf with no hair showing. I started to collect the photographs and gradually collect the fingerprints over three years. I travelled through different parts of Iran and it was a very beautiful journey inside and outside. Each time I arrived at a house I was really surprised because the woman who opened the door was completely different from the photograph I had. Even her voice, her smile, her life, everything was different from my imagination through her photograph. The hallmark of photography is telling the truth for me. You have her photograph so she exists, she is here, the photograph is like a trace of her being. I wanted to show that these women are more than these plain faces with headscarf…In the UK, sometimes, it is so sad for me to see people feel pity for Persian women. I absolutely disagree with this kind of feeling because they don't need it, they are fighting, they are really powerful. These women are silent but they are not voiceless. They always find a way to represent and to show their feelings. Through very simple things. This time, it was through the fingerprints. I wanted to show how a very small part of her being can show how different she is from others. She is something more than a loose hair-strand or a headscarf. She is herself.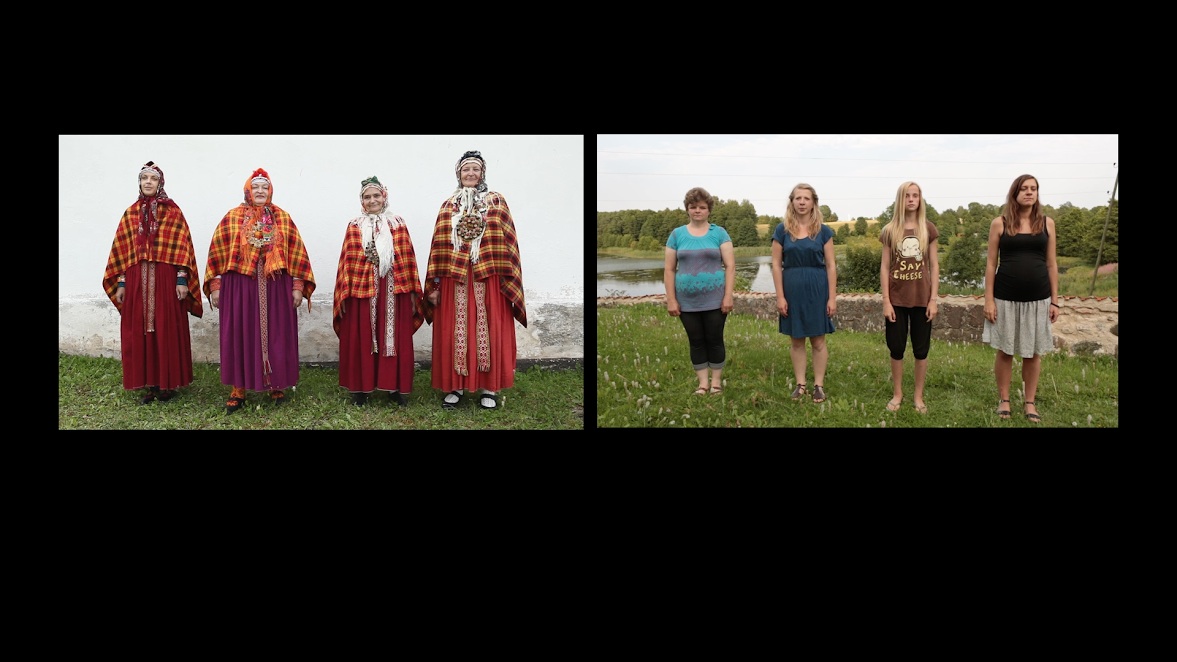 Maria Kapajeva, What Kind of Fame you Have, 2016

Maria: Mine was done in seven days as part of the International Summer School of Photography in Latvia, where I did a workshop with an American photographer, Jim Goldberg. During the workshop we had to go out and find some materials to start a project. So, on my first day I talked to a few people in Latvia and what got my attention was a story of suiti community in Latvia. The suiti women are famous for their drone singing. It's part of their heritage which is protected by UNESCO. Part of what they sing is actually 'gossips', which only women are allowed to sing, because it is considered to be 'too low' for men. That fact straightaway grabbed my attention and I thought, okay, I want to know more about that. Somehow I quickly managed to meet these women and talk to them for a better understanding of their traditions. Inspired by their improvisational singing, I created a video where I brought four of these suiti women face-to-face with four, as I would say, 'modern' women. But the irony is that they are both modern. Even as suiti women dressed up in the traditional costumes, they are still teachers, hairdressers or as the other women. Their costumes make them to be somebody else, they become messengers of something else. The video was a total experiment. The women did not see each other before, although the suiti women knew that I was going to bring them four other women to sing about. With the gossips drone signing, they have about a hundred thousand phrases or expressions to improvise with. It is common that they sing about each other or other people on some special events. So, for the video, I faced two groups to each other and recorded all set up with a few cameras in the middle. As I wanted to record the reaction of 'modern' women, I had to find some Latvians, so they could understand. I didn't know if it was going to work or not and what was going to come out of it.

RRS:   It seems like, in both works, there is a passing of practices or traditions from an older generation to a younger generation and that transition can seem quite politically charged in a way. Would you agree with that? 

Amak: I watched your video, Maria, and the similarity of both works for me is talking about a traditional and social issue. For me, all projects start with a personal reason which pertains to a general issue. I watched your video once without any sound and just watched the reactions of the faces of the women, I could see that something funny was going on, and also something thoughtful, I didn't read the subtitles either. A similarity that I found is that the women are very simply judged by the four women that are singing without any words to say in response. In the same way, the faces in my project are judged just because of the way they look. It is a tradition which comes through the culture and politics. 
Maria: Yes, it is interesting to think about the comparisons between the two works. In your work it comes more through a current political situation, when women have to look a certain way, which is regulated by the state. In my work it is quite different but similar in the way that these women try to read you, try to understand you, sort of withhold this knowledge that they have. In both projects, what I would say they have in common is the lack of dialogue. With yours they are photographs and fingerprints, you have no conversations with the women, we don't know what they think. In mine, I put them in a sort of conversation but 'modern' women don't speak the singing language suiti women use. It all goes in one way. I found that very interesting as a result of this experiment. 
Amak: I think that as an artist, sometimes you don't need to use any words. You don't need to use any dialogue. Just an image, a photograph can tell you so many things and you have this opportunity to capture it and people can read it, which I found really powerful in your project.
RRS:  What draws you to film and photography?  
Maria: Well, for me video is a very exciting medium at the moment, but I also found it challenging. I like to construct something but without really knowing exactly what is going to happen in the end. I think that's what excites me most about video. Photography is always my inspiration, it's always a basis for most of my work. I use a lot of family archives or found images. Photography fascinates me with all questions around its documenting nature and ideas of 'true or false', what stories it can tell. So for me everything starts with photographs. But where it leads me is sometimes quite surprising.  
Amak: For me, it's about documenting life, so I can keep it in my heart forever. When it's about the women in photography, how we pose in front of the camera or how you want to represent yourself, I always try to show the image of the woman that can speak without any words. It could be a knot or a fingerprint. For me, photographs are full of mysteries. I want to find a way to find the truth and I find it through photographs, photography is beyond anything else for me. It is about being present and absent at the same time.